R.I.P.?
Click the above logo to go to the official site!

L-R - JIM (BASS), GARETH (VOCALS), PHIL (LEAD GUITAR), OWAIN (RHYTHM GUITAR), ROB (DRUMS)

TOXIC COCKTAIL (also know as THE PHIL PAGE BAND - I'm not sure who's right but the site is called TOXIC COCKTAIL!)

Owain Vaughan - Rythm Guitar
Phillip Page - Lead Guitar
Gareth Higgs - Vocals, lyrics, management/organisation, official site
Ian Larke (RIP) - then - James Vaughan - then - Jason Witts - then - Rob Hewitt!- Bass
Rob Hewitt - then - Darren Wojtovic (guest)- then - ADVERTISING NOW! - Drums
TOXIC COCKTAIL GOING FOR IT AT MIRAGE STUDIO!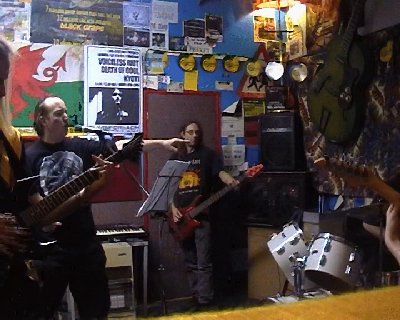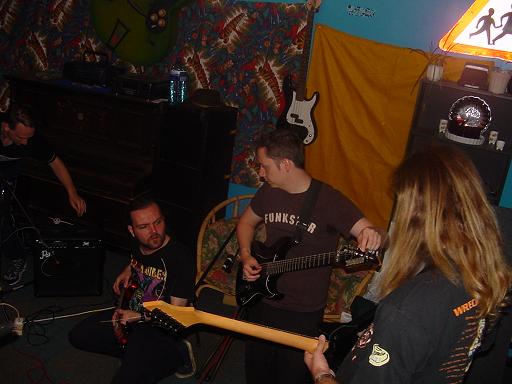 PIC 1 (LEFT) L - R: OWAIN, GARETH - POINTING (?!), IAN (RIP), ROB'S ELBOW ON DRUMS AND PHILS HAND ON THE GUITAR
PIC 2 (RIGHT) L-R: CHARLIE (MIRAGE BOSS), ROB ON BASS (!), PHIL AND THE BACK OF OWAIN'S HEAD!
I (Rob) didn't start of as the drummer, I was initially on the bass. But since there was a drumkit at the studio I thought I'd give it a crack - it worked! I'd sessioned as a drummer once before (the first time I had ever played drums!) in a band (can't remember the name!) with Ian so I knew that with me on drums, he was the obvious choice.
On Sunday 7th September Bismuth and Toxic Cocktail ventured into the studio. Unfortunately Ian has left the band as he has moved away but in his absence Jim from Bismuth took the bass role (well, he bought the bass we use!) and did a fine job for TC. Also of course all BI songs were played too and all was recorded (without vocals due to technical problems) to audio tape (!) and good fun and KFC/Beer was had by all! Jim has gone back to America now so we a sans-bassist but we'll get by, or get someone whichever happens first!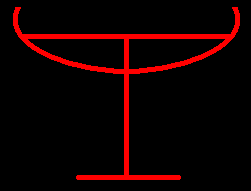 The glass piccys are my attempt at TC logos - let me know what you think of them - rhewitt [at] coagulus.newport.net (replace the [at] with the @ symbol - I'm trying to avoid spam for at least a bit!)
NEWS
9/06/04
I think that's it for TC - all of the members are still about so I hope we get together again. Nothing's been said or done about the band for over two months now. But Phil and I are carrying on writing and playing - check out the Download section for proof! I did emjoy my time in TC though. But yet again a band I was in has failed to gig! It looks like I'm destined never to do so. Boooo! Fingers crossed eh!
1/03/04
We're still looking for a drummer but last weekend, Snitch AKA Darren from Blackened Soul guested on the drums giving me a much needed chance to practice on the bass. Considering he'd not really heard us before I was surprised how quickly he picked up the choon! But then again he is a real drummer, something which we need on a permanent basis! Also we may have a gig in the Summer but I'll say more about that when it's finalised. Also the official site is up and running after a four-year 'coming soon' front page! go to www.toxiccocktail.com now and witness this momentous occasion! We going forward and accelerating I think. Come on drummers out there, join us!!! Do it now!
5/02/04
Toxic Cocktail are still going, we are quite regularly visiting Transpose and having a good practice. We have started advertising for a drummer and once one is secured, I'll go back on the bass again! We have also asked the drummer from our previous band to come in and session for us until we get one so we can get used to our new lineup. I hope he can make it. Don't get me wrong, I enjoy playing the drums but we need someone better (and with their own kit) to move the band forward. But bass is fun too! I hope to bring some mp3s or vids to the site shortly!
5/12/03
Last week we did enter the studio again! And once again had a very good time of it! It has to be said that we were very lucky again to get a full drumkit so after xmas we may start buying our own equipment! On another note, Ian, the former TC bassist, is BACK! I spoke to him this week (over a beer of course!) and he expressed an interest on rejoining the band! The kind of frequencies that only a bass can provide (although Owain tries to tune his guitar there!) may be back soon. I'm also hoping to post some new files soon!
9/11/03
Well, we managed to find Transpose studios in Newport - and had a BLINDER or a session! I hope the Sheriff is more
forthcoming with the videos/mp3s of the studio than he has been (hint! ;-) ) - but then you can appreciate the glory of a new
beginning too! In the meantime - here are some newly scanned pen drawings... later dudes