DOWNLOAD 2004- Laurenís review
Hi I have just returned from what has been THE rock and metal event of the summer, but it wasn't without it's fair share of upset!!!. Along with Metallica's Lars Ulrich being hospitalised prompting the band to play a shortened set with Slayer and Slipknot drummers standing in. Slayer caused chaos turning up 3 hours late and playing in a tent and Static X and Soil didn't make it at all! But still fun was had by all! In total I watched around 10 bands, each reviewed below.
Day 1 Saturday 5th June
The Distillers
1st band i went down to see were The Distillers, on the advice of Richard who said he had heard they were good. They weren'tít. Their lead singer, Brody Dalle, was trying a bit too hard to be Courtney Love and the sound was terrible. By the end of the set however they did pick up a bit, and I went from saying Ďtheir crapí to Ďtheir okí
MARKS= 3/10
The Hiveís
Now Iím a fan of The Hiveís and especially the eccentric lead singer -Howlin' Pelle Almqvist, who I believe has something of the Mick Jagger about him, but their set was disappointing. The crowd didnít seem to enjoy it and their was a lack of atmosphere while they were on, I believe the band sensed this too and put on a lackluster performance. I was left feeling bored by the end of their set, and it has put me off buying their new album. The marks outta 10 are higher due to the humorous antics of Pelle, who in between songs still managed to shine.
MARKS= 5/10
Iggy Pop and The Stooges
Not something I would normally watch, but I made friends with a couple of men who had purely come to see Iggy so I thought Iíd give them a shot. It was late afternoon when he came on, I sauntered down close to the stage, not expecting the live wire explosion of Iggy to wake me up. I have never seen such a energetic performance in all my life, and Iggy for the record is looking good! The crowd lapped up the energy after The Hiveís had sucked it all away. The high point of this gig was when Iggy started inviting the crowd on stage to join him for a song which was called Ďno pain no funí, as much as security tried to stop them, hordes of fans got onstage, and Iggy danced up there with them all. The low point? hard to say but they did play the same song twice! I think that may be because they are getting on a bit and had lost their memories!!
MARKS= 8/10(THE BEST OF THAT DAY!)
Sum 41
Sum 41 with their catchy poppy crowd pleasing mix of punk, did not impress me as much as when I saw them at Reading 2 yrs earlier.. A bit like The Hives I started to get bored towards the end of the set, it wasnít only me as people around me started heckling the band. They seemed to play a lot of new songs which the crowd didnít recognize or get into. Okay but nothing special this year, a band that could be on their way out!
MARKS =6/10
Saturday Summary
I didnít hang around to see Linkin Park as I hate them , but friends that did said they were rubbish!. The best I saw that day was Iggy and the worst was The Distillers. Overall an average day, but I was saving myself for the next day!!!!!
MARKS = 5/10
DAY 2 SUNDAY 6TH JUNE- THE BIG BOYS COME OUT!
Soulfly
The band created by Max Cavalara, former vocalist of Sepultura who hasnít lost the hunger for hard hitting lyrics and the relentless cacophony of aural barrage that should quite rightly seal this legendís future within the Metal Hall of Fame. Their power and stage presence are almost unrivalled, spreading cultural change with every note. This is as close to World music as you will find in the catalogue of metal bands. Their uniqueness and dexterity make them a formidable live act. What pleased me the most is that they played ĎRootsí by Sepultura. A brilliant performance and a definite neck hurter of a band! Very recommended band! (ps Dave Ellefson formerly of Megadeth is one of their bass guitarists!)
MARKS= 9/10
Damageplan
Due to Slayers lateness, Damageplan were stepped up from one of the smaller tent stages on to the main stage, also making Machine Head have to play a later set than billed. Damage plan consists of some members of Pantera former guitarist Dimebag Darrel and drummer Vinnie Paul. No offence to Slayer but Iím glad they were late or I may never have been introduced to the heavy metal juggernaut that is Damageplan. Amazing riffs and energy, be in no doubt these boys are gonna be big! They even did Panteraís most well known and famous metal anthem Respect (even though their lead singer is no Phil he did do it justice!) BRILLIANT!
MARKS= 9/10
Machine Head
WOW! Just when I thought it couldnít get better, Rob Flynn stepped on the stage. You could tell how happy he was to be there and the band played an energetic well received although too short set. Rob thanked the crowd for their warm reception and said he felt that we were all one big happy family! A good mix of old classics and new thundering tracks has meant that there is yet another new album Iíve just gotta buy!
MARKS = 9.5/10
Slipknot
An amazing live act in a room, lacks the same impact in a field. It just lacked the extra of the pyrotechnics and spinning drum kits but was still a good set. They are nine men in nine different masks united with one common goal - world domination, theyíve achieved it in america and judging by the crowds reaction also here! . Iíd heard that their new album was good and hearing them play it live proved it! They always interact with the crowd (or Maggots as they call them) and the crowd all appreciate it. It was good but was overshadowed by the amazing sets of the other acts on before and after them.
MARKS = 7/10
Korn
A band I was so into about 8 years ago have just reentered by life! Now I'm one huge Metallica fan but these are my No.1 of the weekend. An absolutely amazing performance! The wildly emotional vocals of Jonathan Davis, which alternated between a bourbon-smooth croon and a viscerally sharp howl, made for a revolutionary mix that sounds amazing in a field (sorry Slipknot). They even played Snakes and Ladders (my fave, with bagpipes too!) and a cover of One my favorite Metallica song which Metallica didnít even play in their own set!!!!!! I moshed the whole time even to the new tracks that I was hearing for the 1st time - Not a single fault in this set! One word Astounding!
MARKS = 10/10
Metallica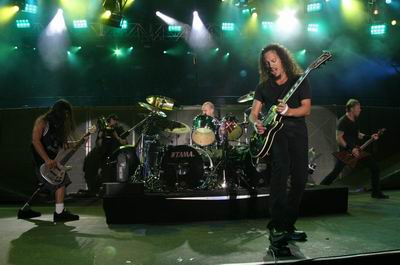 Lars Ulrich was reportedly hospitalised in Switzerland for what are currently undisclosed reasons. Metallica still took to the stage however over an hour late with James stating, "We would like to apologise for being so late to start, but only three of us made it down here to Donington today. Unfortunately our drummer, Lars, is in hospital. We don't know what's wrong, but we wish him all the best. Some friends of ours are gonna help us out, so we're going to make rock history tonight!". The band went on to play the following set list:
Battery (w/ Dave Lombardo of Slayer)
The Four Horsemen (w/ Dave Lombardo of Slayer)
For Whom The Bell Tolls (w/ Joey Jordison of Slipknot)
Creeping Death (w/ Joey Jordison of Slipknot)
Seek And Destroy (w/ Joey Jordison of Slipknot)
Fade To Black (w/ Drum Tech Flemming Larsen)
Wherever I May Roam (w/ Joey Jordison of Slipknot)
Last Caress (w/ Joey Jordison of Slipknot)
Sad But True (w/ Joey Jordison of Slipknot)
Nothing Else Matters (w/ Joey Jordison of Slipknot)
Enter Sandman (w/ Joey Jordison of Slipknot)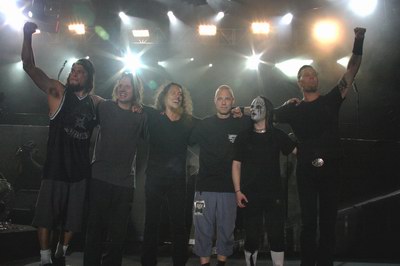 Tonight's performers, Rob, Dave, Kirk, Flemming, Joey and James
The set list above shows how much Metallica understand their fans - THE OLD ONES ARE THE BEST!!!!. A short set but a good un!!
Just want to add that I wish Larís all the best and hope he recovers soon!!! (PS also canít wait for the movie out next month- I will try to see it and review it for u rob!)
MARKS =7/10
Sunday Summary
What an amazing day! Still gutted about Lars, still amazed by Soulfly, Damageplan, Machine Head & Korn! Thanks to their performances my Birthday wish list is gonna be a long un!! A brilliant weekend- ROB UR COMIN NEXT YEAR IF U LIKE IT OR NOT!!!!!!!!!!!!!
MARKS= 10/10