Lauren, who is the festival-goer this year has written another review for me, this time of Reading 2004! Off you go!!
---
Another year, another Reading Festival, My 8th time to the festival and definately not my last! My birthday always falls around this weekend so it is now a tradition to celebrate my birthday by going there! Here's a round up / review of who I saw this year
DAY 1- FRIDAY 27TH AUGUST 2004
Opening the weekend- U KNOWS IT CLART - THE GOLDIE LOOKIN CHAIN (GLC)-SAFE BRA- 9/10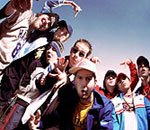 I knows it but if u don't, get to knows it! Newport based ironic hip hop clarts, opened the festival on a wet windy morning. they drew a strong crowd, who all seemed to love them. They played classics such as 'dragon taxis' and 'ur Mothers gotta penis', and recent chart hit 'guns don't kill people rappers do'- which the crowd joined into and almost brought a tear to my eye, as the newport boys had done themselves proud. Only disappointment was they played one rubbish song 'the maggot' which Ive never liked and the crowd didn't enjoy either... Fresh Bra!!!!!!!

Then we watched REEL BIG FISH -OK BUT SAME-ISH- 6/10
A ska type band , that although one or two songs are catchy they all sounded the same.
HUNDRED REASONS/JURRASIC 5/THE DISTILLERS/THE HIVES/ASH- ALL NOTHING SPECIAL 5/10
Nothing to say on these bands, all had one or two songs I knew or cared about, and thats it!
(i believe i did a review on the distillers and the hives for Download)
THE OFFSPRING- STILL GOING STRONG- 9/10
Working their way through hit after hit, everyone sang their hearts out word for word to a set that included, The Kids Aren't Alright, Pretty Fly For A White Guy, and Why Don't You Get A Job. The band ended with Self Esteem (my personal fave) accompanied by a beautiful blizzard of brightly coloured confetti. As one of the best live acts around, the amazing energy and buzz of The Offspring was a real treat. A definate highlight of the weekend for me!
THE DARKNESS - ENJOYABLE BUT NOT WORTHY OF HEADLINE SLOT- 8/10
With only one album behind them i thought how will they fill a headline slot? will their be a support act- Kiss AC/DC, being some of my hopes. but no, of course, the band had a good singsong with the crowd and revelled in their synchronised shouting of words such as 'boobies' and 'fuck.' and constant pantomine style yodelling back n forth. Pyrotechnics and confetti by the lorry load added further excitement to the performance and a far-fetched firework display rounded up the night. But I skipped the last 10 mins to watch a live act that really rounded off the day...... dirty sanchez..... yes the TV show, but in a tent, in one word - SICK!
DAY 2 - SATURDAY 27TH AUGUST 2004- THE WORST DAY OF THE WEEKEND
Hmm a bit of an indie vibe on this day, this is what I thought of who was on that i watched on the Saturday.....
FRANZ FERDINAND -enjoyed the one song i really knew, not much else to say- 6/10
THE LIBERTINES- ONLY WATCHED COS RICH LIKES THEM, I THOUGHT THEY WERE/ARE CRAP - 4/10
MORRISEY- SURPRISINGLY ENJOYABLE!?!- 8/10
another band/artist I only went to see cos rich likes the smiths- but I actually really enjoyed it and recognised a lot more songs than I expected. Plus I like him as within half an hour he's insulted a festival sponsor ("Radio 1 refused to play my last two singles. A big 'boo' for Radio 1!"), Reading Council ("I got a ticket doing 32 on a 30mph road). he he lovin it
THE WHITE STRIPES - GOOD- 8/10
Finally The White Stripes arrive at Reading! After last year's accident where Jack White mashed his finger, forcing them to cancel their appearance, . "We had to get a cab from Detroit," Jack jokeD with the audience after apologising for their previous no-show. It doesn't take long to get going. The Hardest Button To Button works up the audience as the perfect example of The White Stripes' sleazy blues sound. They follow it with their cover of Dolly Parton's Jolene. Several other Stripy singles make their mark tonight, including Seven Nation Army, Dead Leaves And The Dirty Ground, and Fell In Love With A Girl.
With the encore featuring covers I Just Don't Know What To Do With Myself I was sad to see them leave.
DAY 3 SUNDAY 29TH AUGUST - The last day and the rest of the crowd aren't 2 pleased either!- tempers were hot!!!!
Just 2 point out 1st of all I am not a fan of The Rasmus but my friends sister, who couldnt come, is. So we plodded on down to the main arena just so that we could call her when they played in the shadows oh oh. We get there about 5 mins after the time they were due on , it looked like they were runnin late, so me n vix had a sit and played on our Gameboys. After about 20 mins of no show, we just presumed they were late... but then the Dropkick Murphys were announced and bounced on stage!?! where were Rasmus? i later discovered that they had come on stage and proceeded to be bottled until the stage couldn't even be seen. they promptly left. before even finishing 1 song!!!! - This hostile mood stayed in the air for 50 Cent who had as much right to be there as Metallica would at ministry of sound! Anyway heres a review of the bands I saw that day......
Dropkick Murphys- The pogues younger and prettier - 8/10
really lively irish band, ver uplifting jiggy music- enjoyed it i did i did( say it in irish accent sounds better) They even did Pogues
covers which was wiked!
THE STREETS- Good but on 4 2 long- 7/10
Don't mean 2 sound gay but I was only waiting 4/knowin/enjoyin the three chart toppers theyve had... the superb debut hit - don't
mug urself, the alright fit but my god don't u know it and the overplayed and over hummed recent hit dry ur eyes... just seemed like ages spent waiting 4 them and between them. He also told the crowd off for bottlin off the rasmus- duh!
LOST PROPHETS- The welsh boys did us proud but sound could of been better- 8/10
A brilliant set, really enjoyed these but sound could of been a lot better... the quietest band I heard all weekend were the one that
rocked the hardest.. shame could of scored higher
PLACEBO- Ok 4 about 5mins then got reallly boooorrrinngg!- 5/10- nothing else 2 say
50 CENT -WHAT????- They paid him £3 million 4 these festival dates- only lasted 20 mins- boy am i doin the wrong
thing- the feelin of being ripped off n cheated makes this one - 0/10

-------- HE HE!
A QUOTE FROM ANOTHER SITE-
The rapper was pelted with a shower of plastic bottles from the angry crowd, and even had a camping chair thrown at him,
forcing the star to walk off after just twenty five minutes of his Main Stage set.50 and his G-Unit crew were hit by a rain of bottles as they came onstage, and they even started to pick up the missiles and hurl them back towards the front rows.Chants of "50 Cent is a w@nker" were heard and the group were jeered and heckled throughout the short appearance. - ONLY COS I CANT BE BOTHERED TO TYPE ABOUT HIM!
GREEN DAY- WOW!- 10/10
1st time Ive seen this band. One of my favourite bands, but it was worth the wait!!! They came on earlier than planned due to 50's early exit! Thanks, Fiddy! Seeing as Mr Cent took an early departure from the main stage , Green Day have almost two hours for their headline set. Two hours! That's almost enough for their entire back catalogue of three-minute, three-chord wonders. And that's exactly what we get – aside from new single American Idiot, which they open with, they play bugger all from their forthcoming album. Instead, they kick out Dookie classics, Basket Case, Longview and Welcome To Paradise, plus standouts from along the way including 2,000 Light Years Away, Minority They get 2 kids onstage to play their instruments for them and, amusingly, the kids are well prepared and whip up a frenzy all of their own. Making the most of their extended set time, Green Day knock out punk classics including The Ramones' and The Clash's I Fought The Law, not to mention Lulu's Shout. Lordy, Billie-Joe even sticks some black electrical tape to his top lip and leads his band through Queen's We Are The
Champions. Richfield Avenue Park turns into one massive moshpit, the last of this year's festival.