Trivium - Cardiff Fri 17th March 2006 - Lauren's review (and a bit by Rob!)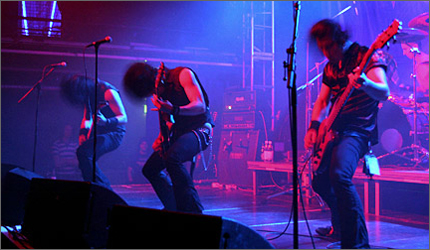 (pic not from Cardiff gig but it is them!)
After finally reaching our destination, after a labyrinth of stairs!, we were met by a large vibrant crowd rocking out to God Forbid. We only joined them midset by they soon won me over. Powerful riffs and an interesting
range of vocals, provided by a Benji from skindred lookalike, drew the crowd in, and they most defiantly 'warmed' the crowd for Trivium.
Then the moment arrived for Trivium to start their St Patrick's day gig. We will rock you by Queen filled the Union, soon everyone was clapping and stamping along which built up the excitement and anticipation for the main
event. And on they came and boy did they rock!! its hard to believe how young these guys are! The confidence and stage presence oozing from them is immense! The ultimate is when there is a stand off between the guitarists,
each trying to outsmart the other with their technical skills, in the end though I'd say the audience won as we were the ones treated to this amazing show!
They thundered through the set with some huge mosh pits forming and then decided to play a medley. This included songs by Metallica, Megadeth and Maiden which I'm sure many of the young crowd were unfamiliar with. They also did a bit of mickey taking and slid in some Green Day and Eminem. The medley ended with Matt (and his gorgeous arms) announcing that they didn't have enough material to headline a tour!
An amazing show from beginning to end, shame we ended the evening by going to 'EMO' night in Metros!! Other than that a fantastic St Paddys!
9/10 (lost that mark cos I wish I was closer to the front, but too
big of a mosh pit for a girl :( )
Lol
Rob's mini review
After what seemed like an eternity of stairs we were greeted by a cacophony of metal goodness that is God Forbid. These guys were really going for it and had the crowd whipped up in a frenzy before the headliners arrived. Trivium pounded the venue with their set before going off for the first of two encores. The first encore was cover-time where they blasted out classic metal such as The Trooper, Symphony of Destruction, and Walk. What got the crowd going though was a cover of "Sweet home Alabama"! That got a chuckle from me and many others. They also got someone from the audience to sing "Master Of Puppets" while they played it which was a nice touch. A sense of fun prevailed throughout the entire gig and that carried through to the audience. A great gig and I was glad I went!
9/10 - no explosions, no gimmicks, just great fun!