Coagulus - Pesky little blighters who won't DIE
Rob Hewitt (Coagulus) with a few contributors
Last Updated Monday May 29 2000 - 16:15
Updated sort-of regularly until now - A full revamp in progress again.
I couldn't keep away for long so I am doing a good old-fashioned cleanout of the site and a slightly altered look and feel. This should be up on the weekend:-
So the old pages and downloads are still available for now, UNTIL THE WEEKEND WHEN SOME WILL GO. This is not the end - ROB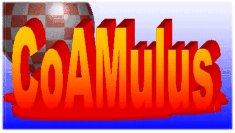 .
An early WIP version of The Mag with Red and White Chequered Balls (!) can still be entered from above. This may still start one day, maybe!
---
Welcome to the Coagulus - The Website where everything and everyone is welcome. Containing pages of glory for your perusal.
---
This started off as a homepage for me, Coagulus/Rob Hewitt. It didn't take long to realise that it was becoming more of an online magazine than a homepage. It was just so boring just talking about me! I welcome you to the site once again. Take a gander. Become a Coagulon.
COME ON IN - DON'T BE SHY - I WOULDN'T BITE - I HAD NO TEETH - THAT LAST BIT WAS A LIE ACTUALLY
---
Courtesy of Site Meter, you are (from May 30 1999) vistor number : Stats REMOVED
---